Builders Of Custom High Quality Tube Theremins
Front View
The Music From The Ether Theremin is housed in a beautiful solid mahogany RCA style reproduction cabinet. The 'PITCH' and 'VOLUME' front tags are molded from brass impregnated urethane plastic utilizing silicone rubber molds made from the original RCA tags. The cabinet is finished in high quality polyurethane varnish and may be stained in any color you specify or finished natural unstained. The polyurethane finish is available in gloss, semi-gloss or satin.
The front switches are Power (bottom right) and Mute (top right). The front control knobs are for Amplifier Volume, (left) and Pitch Oscillator Neutralization (right), a red jeweled power on indicator is located between the Neutralization and Volume controls. The pitch and volume aerials and jacks are nickel plated and polished to a high luster and are removable for transport as per the original RCA instruments.
---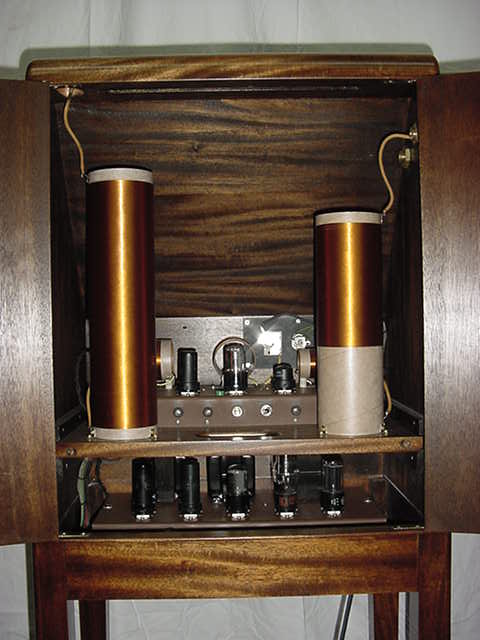 Rear View
As you can see only the highest quality craftsmanship goes into each and every instrument we build. The upper section of the cabinet contains the the aerial coils and the oscillator chassis which house the electronics to produce pitch and control expression (volume). The lower section contains the power supply/output amplifier chassis which houses the power supply and an audio amplifier which will drive 10 watts of power into an 8-Ohm speaker. Output jacks are provided for Amplified Audio Output, Low-Z output to an external amplifier or mixing board, Mute and Pitch Preview. All chassis jacks are standard 1/4" audio type except for Pitch Preview which is a Mono 1/8" jack.
The Music From The Ether Theremin is completely hand crafted one at a time from scratch. The electronics are built using rugged modern printed circuit boards employing the newest component technology. All interconnections are made with modern reproduction cloth insulated wire to achieve the "old school" look. The Music From The Ether Theremin circuitry is based on a "modernized" vacuum tube design by Mark Keppinger.
With our attention to the finest detail from the craftsmanship of our cabinet to the quality of the electronics, You simply will not find a finer instrument than the Music From The Ether tube theremin.
Listen to a sound sample of the RCA Reproducion Theremin
Please bear in mind that when listening to this sound sample it is intended to
demonstrate the sound quality of the instrument and that while I build high
quality theremins, my playing abilities do leave something to be desired.